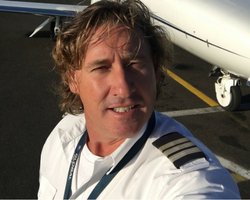 Ben began his aviation career in 2001 as a commercial seaplane pilot on the Gold Coast where he was able to combine his two greatest passions of aviation and the ocean.
After several years managing and piloting a corporate jet aircraft in Western NSW, Ben moved back to the Gold Coast in 2014 and currently shares his work commitments between contract corporate piloting and international aircraft relocations.
Maintaining both Australian and American Airline Transport Pilots Licenses Ben's aircraft relocation business has allowed him to be fortunate enough to have gained diverse experience flying a large variety of aircraft through a larger variety of conditions from all around the world. Ben also holds a Helicopter Commercial Licence. Bens favourite Australian destination is Palm Beach in Queensland and favourite aircraft is the Citation CJ3 and also the MD 500 Helicopter.